[column-group]
[column]
FRENCH ONION SOUP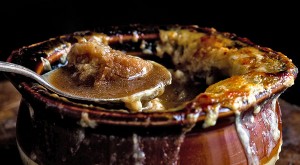 INGREDIENTS
Extra-virgin olive oil
8 large onions, thinly sliced
Kosher salt
6 ounces dry sherry
4 bay leaves
1 bundle thyme
2 quarts chicken stock
12 thin slices baguette
½ pound Gruyere, grated
½ bunch chopped chives
[/column]
[column]
DIRECTIONSCoat a large deep pot with olive oil. Add the onions and sprinkle generously with salt. Bring the pan to a medium heat. Stir the onions to coat with oil. Cover the pot and sweat for 15 to 20 minutes.
Once the onions have gotten very soft and let off a lot of water, remove the lid and let the onions cook low and slow. Caramelized onions take a long time, about an hour.
When the onions are very brown and have gotten considerably smaller, add the sherry and cook until the sherry has reduced by half. Add the bay leaves, thyme bundle and chicken stock. Bring to a boil and reduce heat and simmer for at least 1 hour. Taste for seasoning, you probably will need to season with salt. If the stock reduces too much add water to keep the liquid level up. When done, the soup should be thick and very full flavored. Taste! You may need to re-season, caramelized onions are very sweet and require a fair amount of salt.
Toast or grill the baguette slices. Fill ovenproof crocks 3/4 of the way with the onion soup, float 2 toasts in each bowl and top with grated Gruyere. Place the crocks under the broiler to melt the cheese and make it brown and bubbly. Top with chopped chives.
Makes 6 servings
Recipe from foodnetwork.com by Anne Burrell
Picture from nytimes.com
[/column]
[/column-group]
http://www.foxrunbrands.com/wp-content/themes/foxrunbrands/images/logo.png
0
0
Stephen Powell
http://www.foxrunbrands.com/wp-content/themes/foxrunbrands/images/logo.png
Stephen Powell
2013-04-11 18:12:51
2013-05-08 13:28:32
French Onion Soup